I used to work as a research assistant at a university. I have a bachelor's degree in neuroscience. As much as science fascinates me, I was looking for a change of pace. That's why I started editing. It's a way for me to use my research skills and apply them to a new position. My husband is also writing a book, so the editing skills will come in handy there, too! Outside of work, I love playing video games with friends and family, reading books (especially fantasy), and doing different DIY crafts around the house.
I have a very supportive husband who has tolerated me showing him 800 iterations of my business ideas (thanks, babe!). We have five adorable fur babies; 2 cats - Rose and Keita - and 3 ferrets - Charlie, George, and Ginny Weasley. Unfortunately, this is an old family photo, so some members are missing. Sorry!
If you'd like to know more about me and my journey into editing, I had the opportunity to chat with Phon from Edit Republic about it. You can view that here.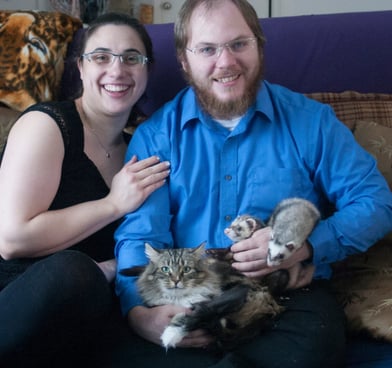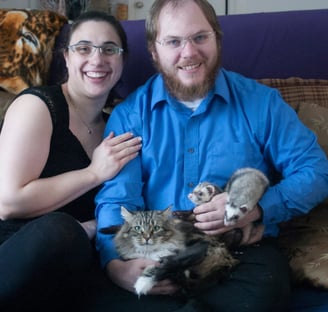 Now, some of you may wonder, why a manatee?
1. My brother thinks he's hilarious and made a play on my name.
2. The name stuck because manatees are amazing animals.
They're super nice and friendly. They're curious but very chill animals. And that's the type of person I want to be when working with people. This is your baby. I know how I feel when someone reads through my work. I'll make sure that I preserve your voice while giving polite, constructive feedback.
You're the one who built the world and researched different aspects of the story. I love reading about different topics, and I'll be rooting for your success. I'm here so the readers can immerse themselves in your story and not have a little typo get in their way.